Diesel Gala
We're turning the clock back to Gateshead 1983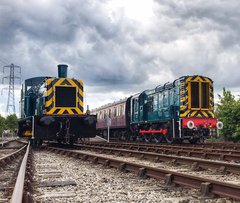 Saturday 28 September - Sunday 29 September
Times:
Saturday: 11am - 5.30pm
Sunday: 11am - 4pm
Price:
Donations welcome, free entry to the museum. Charge for heritage train rides.
Tickets for Saturday's evening event will be available to purchase on the door and on the train for £10.

---
It's not all about steam!


The NTSRA are pleased to announce that this year's Diesel Gala will have a Gateshead TMD theme. We turn back the clock to 1983, when Gateshead was home to a fleet of 03s and 08s, including our very own 03078, which has recently emerged from the paint shop in striking BR blue.
We are excited to announce that ex-British Railways No.03079 will be visiting us for our upcoming diesel gala. 03079 worked at Gateshead TMD alongside our own 03078 between 1976 and 1988 and completes a line-up of three ex-Gateshead locomotives.

This will be the first time 03079 has left Derwent Valley Light Railway in 21 years! It comes to us courtesy of Trevor Humbey and the Derwent Valley Light Railway Society.

See 03078 and 03079 working together for the first time since 1988.

Saturday 28 September

We will be recreating a once common sight from Newcastle Central, when visitors will be able to see an 03 working with a match wagon for the first time in preservation. 08915 shall take on the identity of scrapped classmate 08008 for the weekend, which was withdrawn from Gateshead in November 1983.

There will also be 'Driver for a Fiver' experiences in the yard at Middle Engine Lane (Loco TBC) between 11am and 4pm. From 4pm onwards, we will be holding an evening photo charter with the locomotives taking part in shunting demonstrations to provide a variety of photo opportunities. Trains will be running into the night with each engine taking a passenger train down to Percy Main - allowing visitors to make use of Metro connections to the Coast and Newcastle.

Tickets for Saturday's evening event will be available to purchase on the door and on the train for £10.

Sunday 29 September

An intensive timetable will be in operation with frequent passenger and demonstration freight trains featuring double headers and top and tailed trains. The activity on the railway will be complemented by a presentation of photographs from Gateshead TMD in the 70s and 80s, vintage buses and a reunion of ex-Gateshead drivers and staff.

Usual fares apply on Sunday 29 September, with free entry to the Stephenson Railway Museum.

Timetables will be available soon.