Make & Take Thursdays - all summer long
Summer crafts and heritage train rides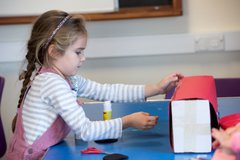 Times:
11am - 3pm
---
Price:
Donations welcome. Free entry to Museum, drop in for events
Charge for heritage train rides at:
12.30pm, 1.30pm & 2.30pm
Please note that heritage train rides on Thursdays are subject to volunteer crew availability.
Make Thursday a Stephenson day. Bring your youngsters down to the museum on Thursdays during the summer holidays where they can explore our wonderful collection of vintage trains. They can also try their hand at our craft activities with a different theme each week. Activities suitable for all the family.

Heritage trains departing: 12.30pm, 1.30pm & 2.30pm
25 July
Teddy Bears' Picnic
Bring your favourite bear along and make them a smart station master's hat and waistcoat.
1 August
Boats are Go
Make a brilliant boat and see if it floats.
8 August
Spot the Birdie - Bird Gliders and Feeders
Make and decorate your own beautiful bird glider and keep feathered friends happy with a fabulous feeder.
15 August
Toot Toot! Off we go!
All aboard! Join us to make a Station Master's hat, pocket watch and flag.
22 August
Down at the Station - finger puppets and stages
Create characters you might meet at the station and design your own railway station puppet stage.
29 August
Build it!
Make models from LEGO®, junk and clay.